WESTCOAST
Not all those who wander are lost-
J.R.R. Tolkein
REMEMBERING // 24X30 // oil on board // 1800
Framed in solid black contemporary wood frame.
EMERALD WAVE // oil & mica on canvas // 20" X 30" // 1500
This Westcoast wave was inspired by the emerald greens of the waters during our beautiful spring months. An iridescent mica pigment is added to the paint to highlight the crest of the wave creating a gorgeous light effect.
LETTING GO // 18X36 oil on canvas // 1620
I went through something this year that required me to give up. Giving up isn't something that I've taken lightly in my life. It felt foreign and somehow wrong except for the loud calling of my intuition. This is a matter that I had been holding close to my heart my whole life and was very attached to. In the end all that l I did was decide to let go. It was an internal act of surrender. When I went into the actual situation that I'd been preparing myself for it was already done. There was absolute freedom on all sides. The situation was completely diffused. There are moments like this in life that are so hard to describe. The setting down of a weight that brought a lifetime of suffering. The newfound space afterwards. The deep breath. The love that floods in. The realization that it was always this simple.
The dawn, the calm waters and the peace that comes after letting go.
photo source: Karen Yeomans
Emerging // 12 X 12 oil on panel // SOLD
This painting represents the stripping away of everything non-essential that holds us back. All has been cleansed and left behind in the vast forgiveness of the ocean. She emerges unbound & focused. There is strength in her vulnerability. There is nothing that she can't accomplish from here.
*FRAMED IN A WHITE WASHED VINTAGE FRAME
WAVE III // 18X24 oil on panel // 1100
WAVES IV // 16X16 oil on exhibition canvas // SOLD
WAVES II // 16X20 oil on panel // SOLD
Land of the Lefts // 18X24 oil on birch // SOLD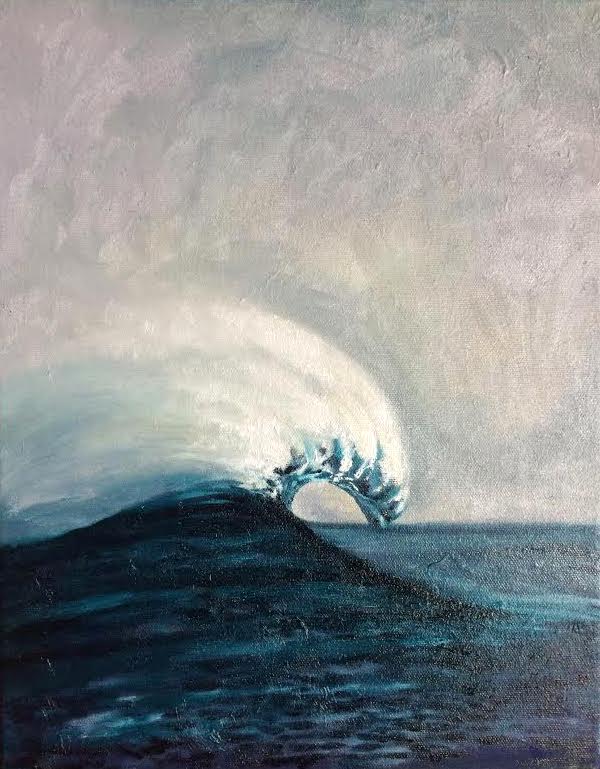 WAVE V // oil on canvas // 8" X 10" // SOLD
HEART AWAKENING // 16X24 oil on canvas // SOLD
I got a call Monday night from my amazing business partner Christy Feaver that she had met Justin & Sophie Trudeau & that they may be coming into the House of Alaia the next day…while I was working. I believe that these two are among the most inspiring, uplifting & influential people living & was stoked at the opportunity to meet them. I went for dinner that night with my family and upon returning home became suddenly inspired to paint something new & exciting to have in the space in case they came in. I'd had an idea to paint one of Chris Pouget's amazing yoga photos that morning…when I looked at the picture again I realized that it was shot on the beach that the Trudeau's are staying at in Tofino & that Sophie is a yoga instructor!…So I did it. Like a crazy, manic, geekin' out artist…I stayed up until 4AM and painted her doing yoga on Chesterman's…slept for 3 hours & finished it just in time to bring into the shop. At 12:00 Sophie Trudeau walked in. She is AMAZING. She is a personal hero of mine and her dedication to raising awareness towards feminism, mindfulness and self-worth inspires me to no end. It was an honour to hold space with her. After 30 minutes of jewellery shopping I finally mustered the nerve to show her my painting when her driver came in to whisk her off to an engagement. I was stoked that at least she'd got to see it…if only for a moment and that I'd been able to tell her what an inspiration she is to me. But I didn't give up hope.
Yesterday, Justin Trudeau's security guard came into the shop on his break and had a look at my art. He saw the one of Sophie and said, "Does her husband know this is here?". I said, "No, I don't think so." I gave him one of my cards and he left. I went to bed last night and visualized them both coming in for a VERY long time.
At 11:30 today one of the Prime Minister's other security guards came into the House of Alaia and said, "The Prime Minister & his wife are on their way in. They are 5 minutes out."
This photo represents one of the proudest moments of my life. I was so excited to pick Lily up from daycare today to show her. She knows them as our King & Queen…which they are to me as well. It represents my dedication to Trusting the Universe and the forces that conspire in our favour all the time…if only we ask & show up. If there is something that you want in this life PUT IT OUT THERE! GO FOR IT! Anything is possible. <3
New Year's Day // 20X24 oil on canvas // 1200
Chesterman's beach in Tofino BC looking back at the Wickaninnish Inn Relais & Chateau.
Frost King // 12X12 oil on panel // SOLD
Up and away for life! be fleet!
The frost-king ties my fumbling feet,
Sings in my ears, my hands are stones,
Curdles the blood to the marble bones,
Tugs at the heart-strings, numbs the sense,
And hems in life with narrowing fence.
Well, in this broad bed lie and sleep,
The punctual stars will vigil keep,-
Embalmed by purifying cold;
The winds shall sing their dead-march old,
The snow is no ignoble shroud,
The moon thy mourner, and the cloud-
Ralph Waldo Emerson
He & the Sea // 9 X 10 oil on birch // SOLD
DRIVE // oil on birch panel // 11" X 14" // SOLD
WONDERMENT // 22X36 oil on panel + salvaged cedar frame // SOLD
This piece is from a Tofino beach and is meant to capture the pure joy & wonderment that comes so effortlessly to our children. They are our teachers in so many ways.
First Light // SOLD
"You are not a drop in the ocean.
You are the entire ocean in a drop."
RUMI
North Path // 9X10 acrylic on board // 600 framed
Two roads diverged in a wood, and I—
I took the one less traveled by,
And that has made all the difference-
Robert Frost
*FRAMED IN SALVAGED WESTOCOAST CEDAR
Chesterman's Study II // oil study 11X14 on panel // 600 framed
Study of Chesterman's Beach done at dawn capturing the early morning pastels of the coast in summer.
*FRAMED IN WHITE WASHED WOOD
PURE SHORES // 24X36 oil on panel
This is an active prayer for the saving of what's left of our pristine oceans and the healing of the rest of our waters.
Cox Bay // 24 X 48 acrylic on canvas // SOLD
Secret Window // 18X36 acrylic on canvas // SOLD
Somewhere on the Westcoast.